Snow Showers Continue to Fill Into the County With the Potential for a Wintry Mix
Published: Feb. 10, 2023 at 8:29 AM EST
PRESQUE ISLE, Maine (WAGM) - Good morning and happy Friday. We had the leading edge of some snow showers make their way into the region overnight and into the early morning hours of today likely causing some slick conditions on the roadways.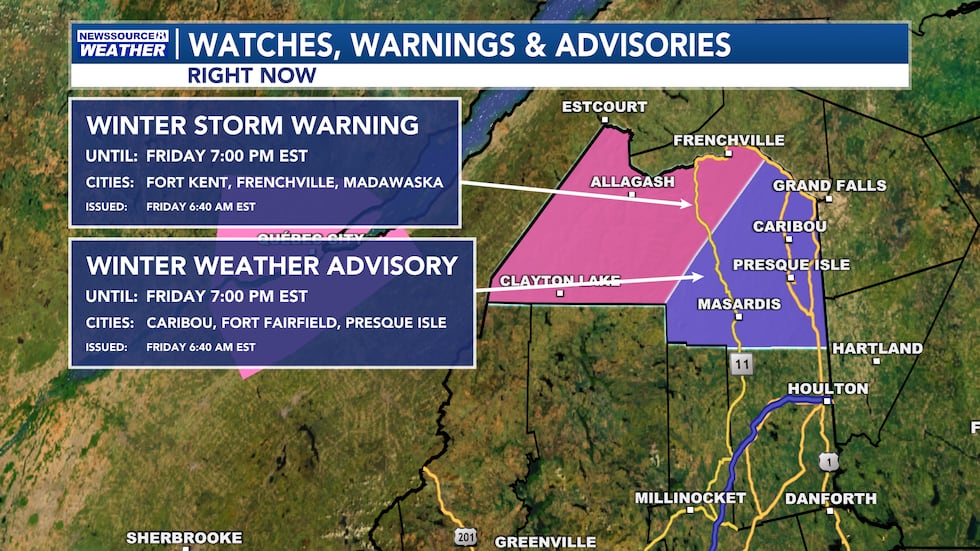 That is why the National Weather Service has placed most of the county into a winter weather advisory through this evening. However, the advisory has already expired in southern Aroostook based on warmer air already making its way into the region. The northwestern half of the county has been upgraded to a winter storm warning due to higher snow totals being likely. This is also where the greatest impacts look to be centered around through the duration of this system.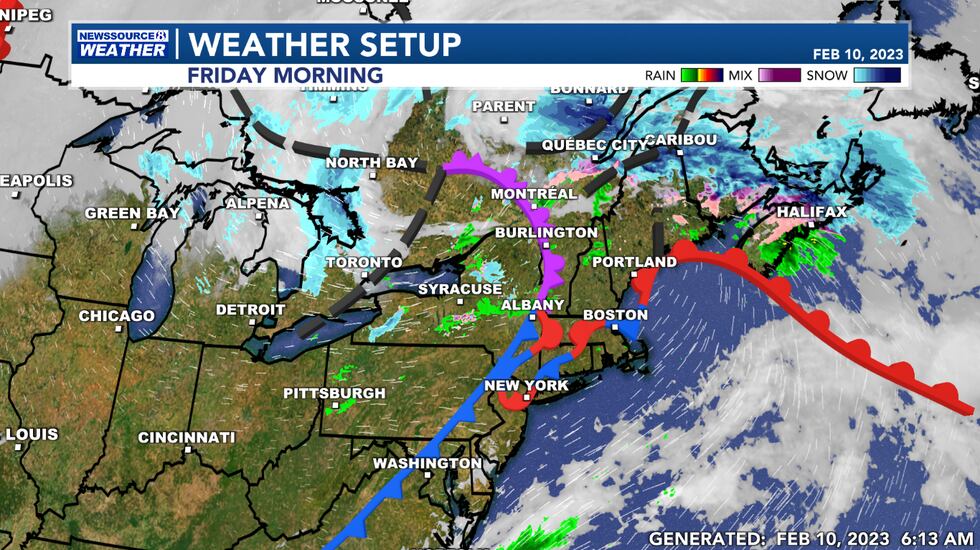 This morning's weather setup shows the main stronger area of low pressure providing the snow to the region continuing to sit off to our northwest. As it continues to move slowly to the east over the county, it will bring us some additional snow and even the possibility for some mixing as warmer air works its way into the region. Timing things out for you, the warmer air moves into the region from the south. As we continue to go throughout the day, any additional snow we do see will be on the lighter side not really having a chance to pick up in intensity. Leading into the afternoon, things will likely become a bit more scattered as this system begins to taper off slowly. Snow showers eventually wrap up by the time we head into late this evening leaving us with some lingering cloud cover. With overnight lows falling back into the mid to upper teens, it's likely we will be dealing with some slick spots on the roads throughout the daytime tomorrow.
In terms of how much additional snow we will see out of this system, the highest of totals will be to our very north where the colder air sticks around and we see some additional scattered snow showers. Those locations will likely see an additional 3 to 6 inches. The central portions of the county will pick up on an additional 1 to 3 inches. As you travel further south, those totals will become lower. Southern Aroostook has likely already seen the bulk of the accumulation. At best some places could see a dusting because of warmer air already working in place.
The weekend looks to bring better weather with skies clearing out by the second half of the daytime tomorrow with temperatures back into the lower 20s. We do have some additional chances for snow showers next week before temperatures warm up considerably by the 8 day into the 30s and lower 40s.
For more on today's forecast tune in to this morning's Weather on the Web Video Forecast. Have a great day and stay safe!
Copyright 2023 WAGM. All rights reserved.