More Snow Showers Overnight Tonight Results in Another Gloomy but Mild Day Tomorrow
Published: Mar. 7, 2023 at 7:18 PM EST
PRESQUE ISLE, Maine (WAGM) - Good evening everyone and happy Tuesday. High temperatures today managed to climb up into the mid to upper 30s depending on where you were. Some of the warmest temperatures were actually seen through the central part of the county, where highs reached the upper 30s. No one broke the 40-degree mark today, however I think spots will have a better chance of doing so with slightly warmer temperatures tomorrow.
This evening's weather setup shows the weakening area of low pressure still sitting just off to our east this evening. This will continue to be the weather maker going into tomorrow with mostly cloudy skies and isolated showers once again. It's not until Thursday that early morning snow showers will eventually taper off, leading to breaks in the clouds and some sunshine possible by the afternoon. That will set us up for a nicer patter for the end of the week going into the weekend, with more sunshine and seasonable temperatures expected.
Going hour by hour through the rest of the overnight hours shows the chances for snow showers increasing past midnight tonight. This will result in light to moderate snow shower activity for most spots going through the early morning hours of Wednesday. While I'm not expecting much in terms of accumulation, a coating to as much as half an inch could still make any untreated surfaces slippery tomorrow morning. Make sure to once again leave yourself a few extra minutes to get where you're trying to go tomorrow. Low temperatures tonight are expected to fall back into the upper 20s and lower 30s. Northerly winds are still expected to be breezy at times during the overnight hours, but it won't do much to impact temperatures. Cloud cover over the region will act as a blanket to lock in warmer temperatures, even as snow showers fall during the early morning hours of Wednesday.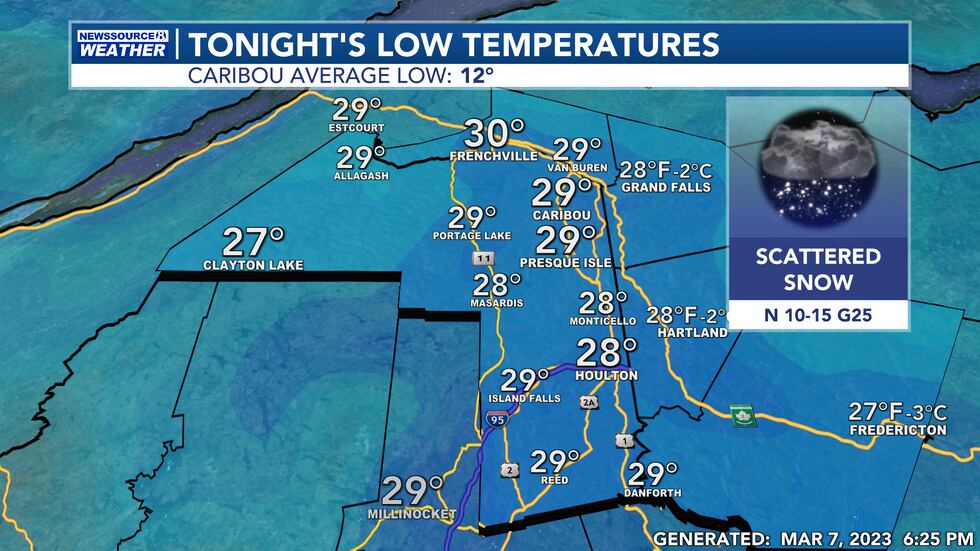 Once again snowfall with this system isn't expected to be much. Most spots will be looking at a trace to as much as an inch of snow possible. Communities that have a better chance of an inch of snow or more will be places further north and west through the county. While the graphic and contour say 1 to 3 inches, I'm more confident we'll be on the lower end of these totals, with snow showers not lasting long enough to provide any significant accumulation.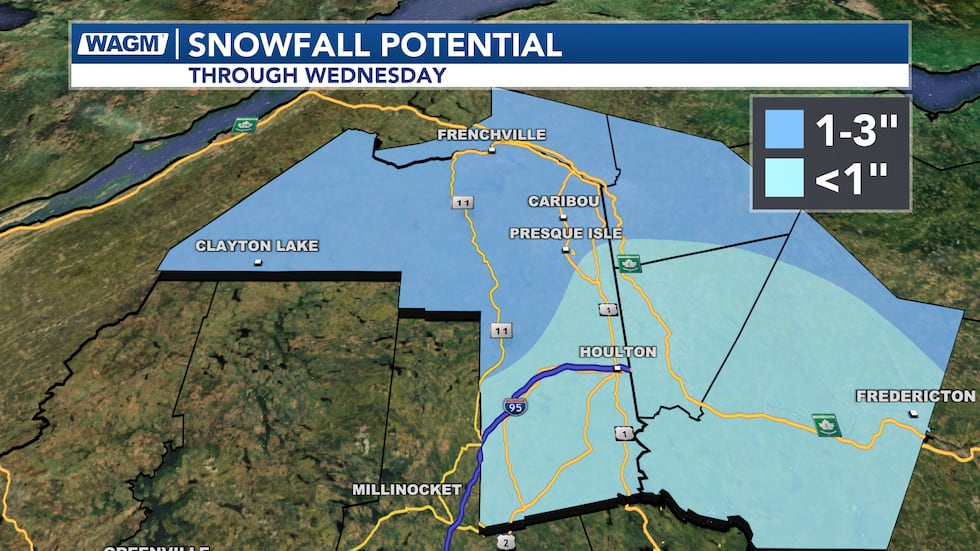 Going hour by hour through the day Wednesday shows cloudy skies and isolated showers possible through most of the day. With temperatures warming up once again above freezing, some of these showers could fall in the form of mixed precip or plain rain. It won't be enough precipitation to cause major concerns, but it is worth mentioning going through the day tomorrow. High temperatures Wednesday once again reach the upper 30s, with more communities having a better chance of making it into the lower 40s. Northerly winds will still be breezy during the day tomorrow but will again have little impact on actual temperatures.
For more details on this evening's forecast, make sure to check out this evening's Weather on the Web Video Forecast linked to this article. Have a great evening!
Copyright 2023 WAGM. All rights reserved.