Dems say many foreign gifts to Trump remain unaccounted for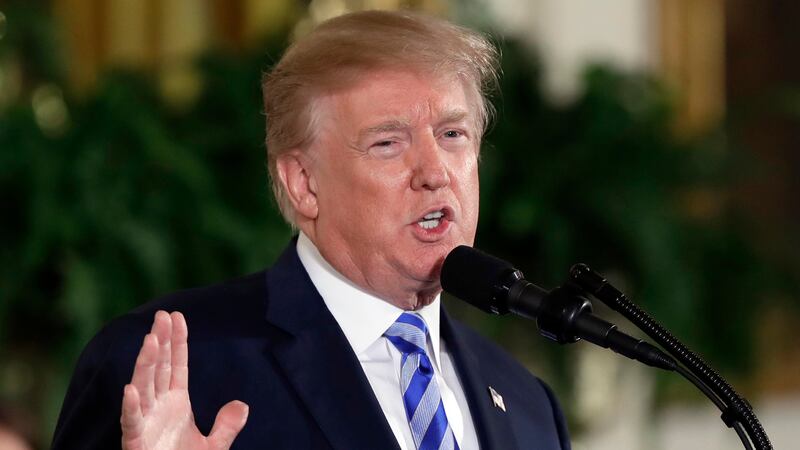 Published: Mar. 17, 2023 at 3:41 PM EDT
WASHINGTON (AP) — Donald Trump's White House has failed to report more than 100 gifts from foreign nations worth more than a quarter-million dollars, and federal officials have been unable to find a life-size painting of Trump given by the president of El Salvador as well as golf clubs from the prime minister of Japan, according to a report Friday from House Democrats.
Among the unreported items are 16 gifts from Saudi Arabia worth more than $45,000 in all, including a dagger valued at up to $24,000, and 17 presents from India that include expensive cufflinks, a vase and a $4,600 model of the Taj Mahal, says the report from Democrats on the House Oversight Committee.
Gifts above several hundred dollars that foreign officials give to the president, vice president and their families are required under the Foreign Gifts and Decorations Act to be reported to the State Department. The report from House Democrats, citing State Department records, says the number of gifts reported by Trump and his family are lower than the number disclosed by previous presidents.
All told, the report says, though the White House did report some gifts to State between 2017 and 2019, it failed to report more than 100 foreign gifts with a total value of over $250,000.
The report says federal officials have not been able to locate a life-size painting of Trump that, according to internal White House correspondence, was commissioned by the president of El Salvador and delivered to the U.S. Embassy in El Salvador as a gift to Trump just before the 2020 U.S. election. According to the report, the U.S. ambassador to El Salvador alerted U.S. officials to the gift and requested help in shipping it.
The report says that "there are no records of the painting's disposition" by the National Archives and Records Administration or the General Services Administration but that some records suggest it may have been moved to Florida in July 2021 as property of Trump's.
Also unaccounted for are thousands of dollars in golf clubs given to Trump in 2018 and 2019 by Shinzo Abe, then the prime minister of Japan.
"Today's preliminary findings suggest again the Trump Administration's brazen disregard for the rule of law and its systematic mishandling of large gifts from foreign governments, including many lavish personalized gifts that vastly exceed the statutory limit in value but were never reported — some that are still missing today," Rep. Jamie Raskin of Maryland, top Democrat on the Oversight Committee, said in a statement.
He also said that the committee would "remain committed to following the facts to determine the extent to which former President Trump broke the law or violated the Constitution when he failed to report gifts and took possession of valuable items without paying the fair market price for them."
A Trump spokesman did not immediately return an email seeking comment.
___
More on Donald Trump-related investigations: https://apnews.com/hub/donald-trump
Copyright 2023 The Associated Press. All rights reserved.