Family seeks jailer punishments after beaten inmate's death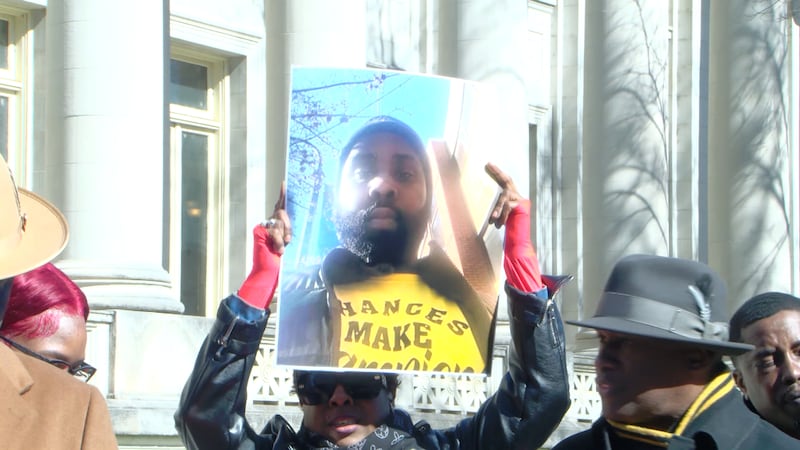 Published: Mar. 17, 2023 at 4:09 PM EDT
NASHVILLE, Tenn. (AP) — The parents of a Black man who was having a psychotic episode and died in custody last fall after Memphis jailers punched, kicked and kneeled on his back during a confrontation are seeking answers for their son and punishments against the jail staff.
At a news conference in Memphis on Friday, 33-year-old Gershun Freeman's mother said her son had "a lot of dreams, a lot of admiration" and cared for people. Kimberly Freeman said she wants justice for her son and wants to know who the jailers are.
"They have blood on their hand," Kimberly Freeman said. "They go home every night to their family. Whereas for me and my granddaughter, we have to see my son, her father, in a box."
Gershun Freeman's father, George Burks, added that he wants to see the officers "punished, brought to justice."
The Nashville District Attorney's Office released video earlier this month of Freeman at the Shelby County Jail in Memphis.
The video shows Freeman was beaten by at least 10 corrections officers Oct. 5 after he ran naked from his cell. His attorneys say he was also struck with handcuffs, rings of jail keys and pepper spray cannisters.
Freeman had "psychosis and cardiovascular disease and died of a heart attack while being restrained," Shelby County Sheriff Floyd Bonner said in a statement earlier this month, citing the medical examiner's report.
Prominent civil rights lawyer Ben Crump, who is representing Freeman's family, deemed the case "another video of an unarmed Black man being killed by law enforcement here in Shelby County, Tennessee."
The city has been roiled by Tyre Nichols' fatal beating by Memphis police in January. The Black motorist was punched, hit with a baton, kicked, and pepper sprayed during an arrest that was recorded on video. His death led to seven police firings, including of the five officers who have since been charged with second-degree murder, plus three fire department firings. Crump is also representing Nichols' family. Members of Nichols' family were on hand for Thursday's news conference, as well.
"I don't know what is happening in America where law enforcement feels that they can treat mental health issues like criminal issues, especially if they are marginalized people of color, especially if they are Black men," Crump said.
Freeman's manner of death is listed as a homicide in the autopsy report from the West Tennessee Regional Forensic Center, although the report says this "is not meant to definitively indicate criminal intent."
In his statement, the Shelby County sheriff said it was unfortunate the video does not show the whole episode. The video has been edited and includes multiple camera angles in different parts of the jail.
The district attorney's office for Shelby County has brought in the Tennessee Bureau of Investigation to look into the death. It has asked the Nashville District Attorney General's Office to act as an independent prosecutor in the case.
The sheriff has said he will "wait for additional information from the TBI and the investigating D.A. before taking further administrative action."
Freeman was booked in jail Oct. 1 on charges of attacking and kidnapping his girlfriend, according to court records.
The video begins with two corrections officers serving meals to inmates in a narrow hallway. When Freeman's cell opens, he runs out unclothed and appears to charge at the officers.
The officers wrestle him to the ground and begin to punch, kick and pepper spray him. They are joined by additional officers. The deputies move with Freeman out of the hallway. From another camera's view, we see Freeman wrapping himself around an officer's legs in a different hallway.
The video shifts to a bank of escalators and Freeman, still naked, runs up one of them. In another hallway, a struggle continues with officers attempting to restrain him before getting him face-down on the ground. They can be seen stepping and kneeling on his back before he becomes still. One officer remained on Freeman's back for several minutes before he was lifted.
He appears limp when officers do lift him up, with his head falling forward between his knees and his hands cuffed behind his back. He remains in that position until medical employees arrive, and the video ends.
Copyright 2023 The Associated Press. All rights reserved.