Slippery Travel Expected Overnight Tonight, with More Sunshine and Warmer Temperatures Expected Tomorrow
Published: Mar. 17, 2023 at 7:02 PM EDT
PRESQUE ISLE, Maine (WAGM) - Good evening everyone and happy Friday. We had a wonderful start to the day with mostly sunny skies. Going through the day, clouds began to increase, resulting in mostly cloudy skies going into this evening. Nicer weather is expected to return tomorrow, after another cloudy start to the day. This evening's weather setup shows' the area of low pressure sitting off to our west this evening. This low will bring a warm front through the region over the next couple of hours, sparking off rain and snow shower activity, before a cold front moves through later tonight. Latest guidance shows this low-pressure system encountering warmer air from today, resulting in precip falling as mixed sleet and rain, before transitioning back to plain rain going into the morning hours tomorrow. Rain showers quickly taper off before sunshine, with clearing skies expected across the county during the morning hours. This will leave us with more sunshine by the afternoon, which in turn will help temperatures warm back up once again.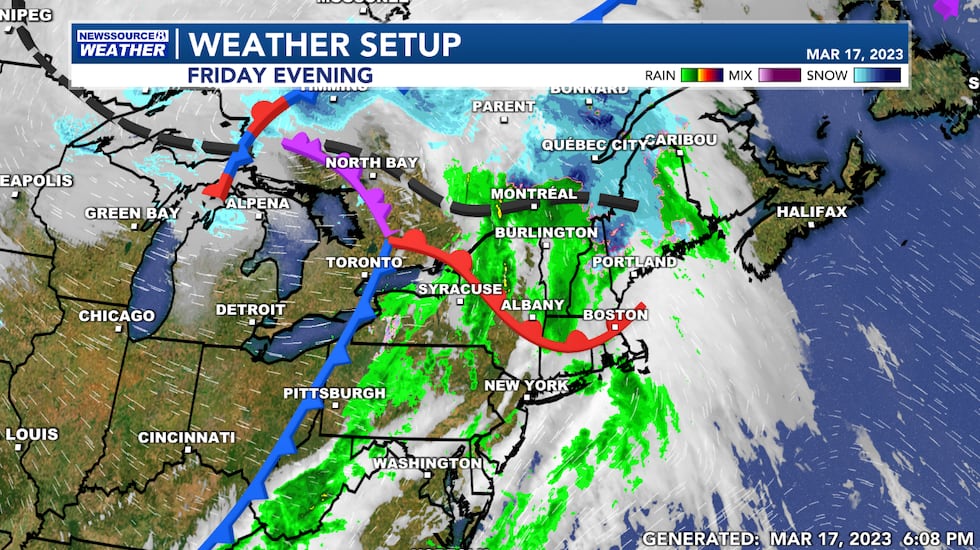 Going hour by hour through the overnight hours, the computer models are having a hard time catching up with the warmer temperatures that we saw during the day today, so while this computer model shows all snow going through the evening hours, I think there's a good chance we start off as rain, and transition to mixed precip and eventually snow later this evening. Closer to midnight, warmer air begins to work back into the region, allowing a transition back over to a mix and eventually rain during the early morning hours of Saturday. Rain looks to wrap up by sunrise Saturday morning, with clearing skies then expected going into the day. Temperatures tonight are expected to cool off once we lose the daylight, with temperatures hovering around the freezing mark late this evening. By midnight, temperatures will begin to change direction, and begin to warm up once again, resulting in temperatures increasing to the lower to mid-30s by sunrise tomorrow morning. Temperatures will only continue to warm up from there, with high temperatures by the afternoon expected to reach the lower to mid-40s.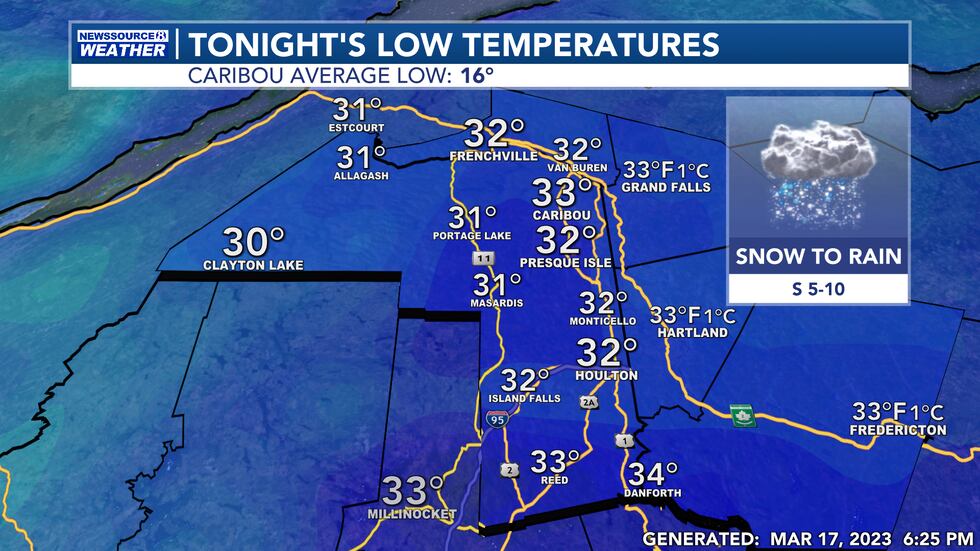 Going hour by hour through the day Saturday shows a cloudy start to the day, but cloudy will be short-lived, as sunshine is expected for most spots late morning going into the early afternoon. Clear skies stick around going into the early evening hours, before cloud cover increases along with scattered snow shower chances going into Sunday morning. High temperatures tomorrow are expected to reach the upper 30s and lower to mid-40s. Clearing skies during the afternoon will continue to give temperatures a boost, however westerly winds will be picking up going into the evening hours.
Sunday starts off with some breaks in the clouds, before cloud cover and snow shower activity become more scattered going into the afternoon. These snow showers are expected to be light in nature, and won't last very long, with the majority of snow showers wrapping up by sunset Sunday. Skies are then expected to clear out going into the overnight hours, leaving us with mostly sunny skies to start next week. High temperatures Sunday are expected to be a bit cooler than tomorrow, with high temperatures struggling to reach the freezing mark by the afternoon. Westerly winds will continue to pick up, making it feel even colder outside for the second half of the weekend.
More details on the forecast can be found in this evening's Weather on the Web Video Forecast at the link below. Have a great weekend!
Copyright 2023 WAGM. All rights reserved.