Scattered Snow Showers to Start Tomorrow, with Steady Snow Expected by the Afternoon
Published: Mar. 22, 2023 at 6:58 PM EDT
PRESQUE ISLE, Maine (WAGM) - Good evening everyone and happy Wednesday. We had a wonderful day stepping outside with partly to mostly sunny skies. This was thanks to high pressure sitting over the region and is expected to provide us with clear skies over the next couple of hours. A warm front just off to our west is expected to lift through later tonight, before an area of low pressure sits over the region going into tomorrow. This low pressure will bring scattered snow showers to start tomorrow morning, before more widespread snow shower activity is expected by the afternoon. This continues into the early evening, before tapering off to scattered snow showers once again during the overnight hours and into Friday. Friday ends up being more of a gloomy day with snow shower chances still possible during the morning hours, with breaks in the clouds then likely by the afternoon and evening.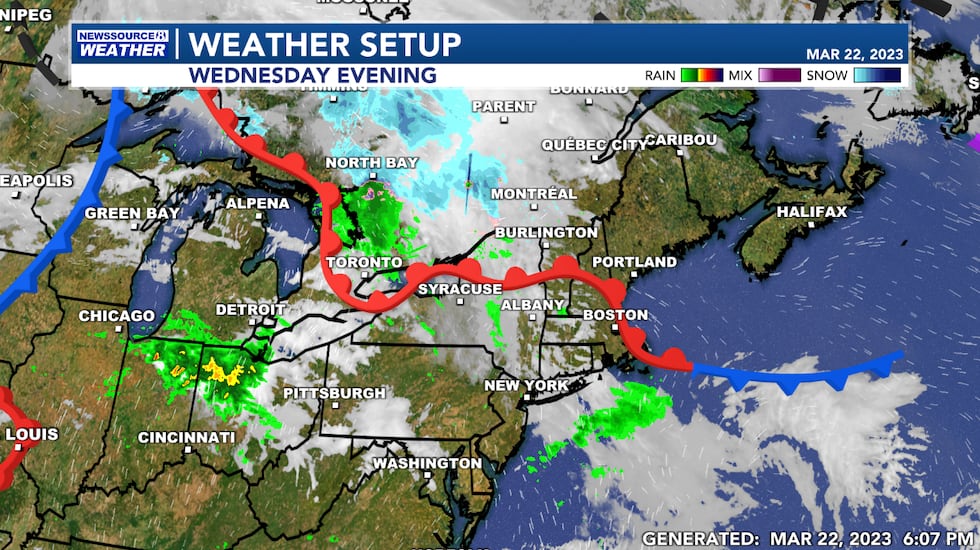 The National Weather Service has placed the northern half of the county under a Winter Weather Advisory through 4 am Friday morning, with slippery travel expected for everyone through much of the day tomorrow. While southern Aroostook isn't under a winter weather advisory, expect travel to still be slippery at times, especially before snow and mixed precipitation taper off tomorrow evening.
Going hour by hour through the rest of the overnight hours tonight shows cloud cover increasing later this evening, leaving us with mostly cloudy skies going into the early morning hours of Thursday. Snow showers look to hold off until just before sunrise Thursday, with most of the scattered activity beginning over southern Aroostook, and then slowly working its way north going into the morning hours. Low temperatures tonight are expected to be like last night, once again falling back into the mid to upper teens. Northerly winds will be shifting into the east during the overnight hours, leaving us with cooler air in place when snow showers begin to enter the region tomorrow morning.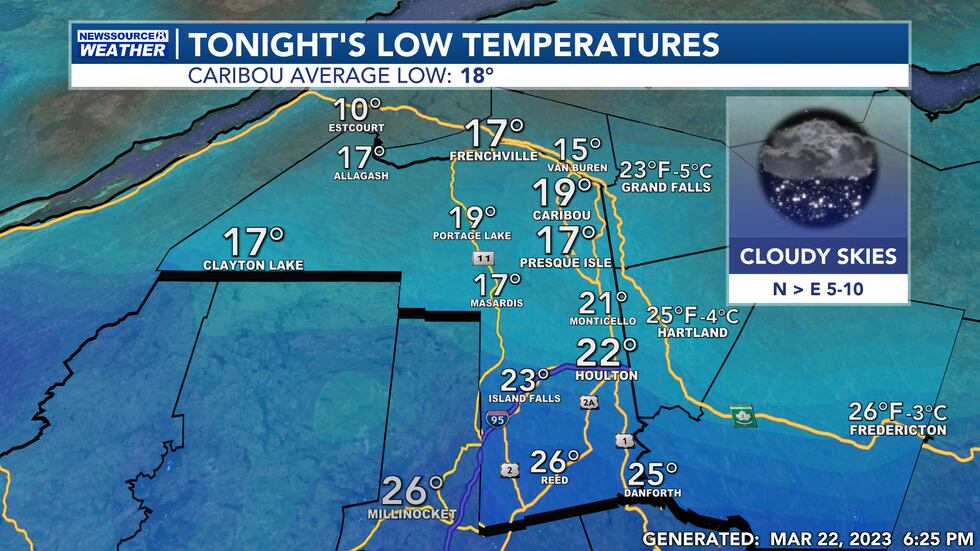 Going hour by hour through the day tomorrow shows scattered snow showers continuing for everyone during the morning hours. Widespread snow shower activity is expected to fill in going into the early afternoon, with moderate to heavy snow showers possible during the mid to late afternoon. It's not until tomorrow evening that snow showers taper back off to scattered activity, with most of it limited to the St. John Valley. Cloudy skies are expected to linger through the rest of the overnight Thursday, with isolated showers still possible going into the first part of Friday. High temperatures Thursday will be similar to today, with high temperatures hovering around the freezing mark for most places. Southeasterly winds are expected to pick up tomorrow, especially in any heavier snow bands, resulting in blowing snow and low visibility likely through the afternoon and evening.
Snowfall with this system still doesn't look to be a blockbuster event by any mean, however snowfall does look to be enough to make travel difficult going through tomorrow afternoon. Most spots have a good chance of seeing between 2 to 5 inches of snow, with higher amounts expected in the valley where it continues to snow into tomorrow night, with lower amounts anticipated over southern Aroostook, where any mixing will help to reduce snowfall totals.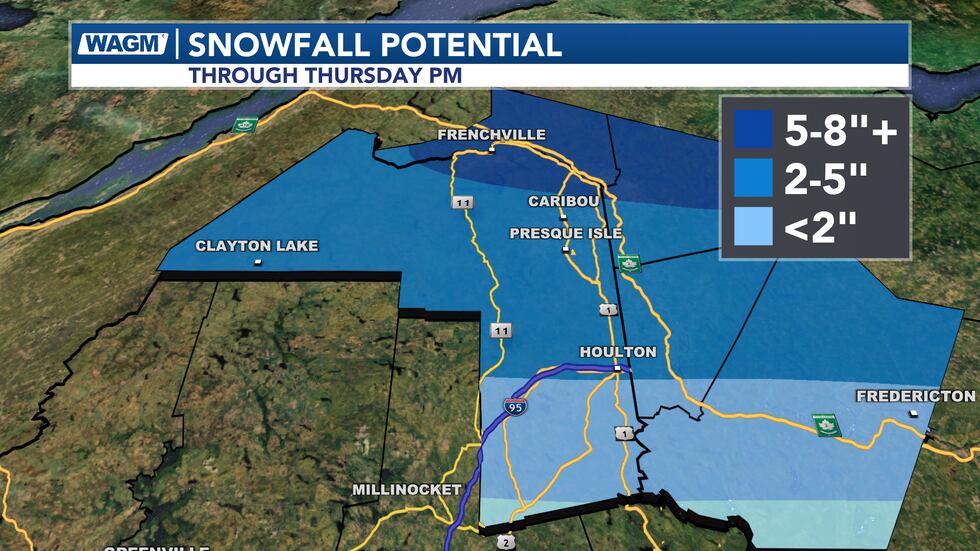 More details on this evening's forecast can be found in the Weather on the Web Video Forecast attached to this article. Stay safe out there!
Copyright 2023 WAGM. All rights reserved.