Los Angeles schools, union leaders reach deal after strike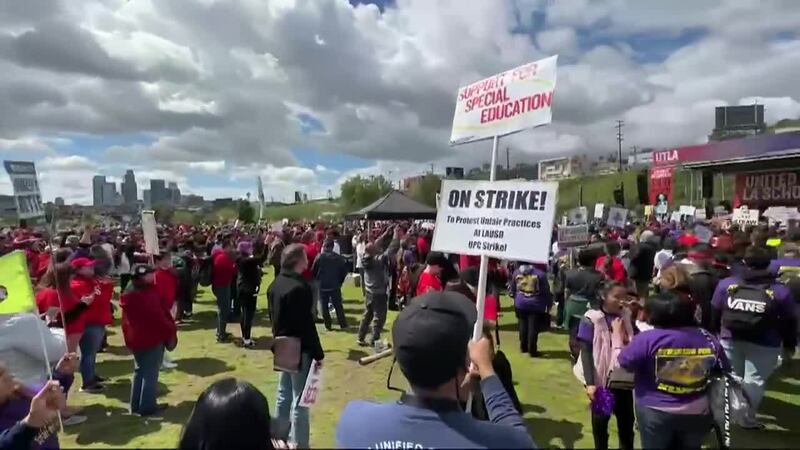 Published: Mar. 23, 2023 at 9:56 PM EDT
|
Updated: Mar. 24, 2023 at 9:36 PM EDT
LOS ANGELES (AP) — The Los Angeles Unified School District and union leaders said Friday they reached a deal on pay raises for bus drivers, custodians and other support staff after a three-day strike that shut down the nation's second-largest school system.
The deal includes a series of retroactive raises going back to 2021 as well as pay bumps this coming July and January that will collectively hike worker pay by about 30%, said Max Arias, executive director of SEIU Local 99.
The deal also sets the district's minimum wage at $22.52; provides a one-time $1,000 raise for any worker who was employed in 2020 in appreciation of their work during the COVID-19 pandemic; and creates a $3 million educational and professional development fund for union members, district Superintendent Alberto Carvalho said at a news conference.
Free health care will be provided for any employee working at least four hours a day and their families, he added, calling the deal historic and unprecedented in the nation.
"This agreement's going to make a lot of superintendents very nervous," he said. "And that's a good thing. … Elevate the bar and, in the process, elevate the people."
The deal "elevates the dignity, the humanity of our workforce, respects the needs of our students, but also guarantees the fiscal viability of our district for years to come," Carvalho said.
He announced the deal alongside Arias and Los Angeles Mayor Karen Bass. Both sides credited Bass, who took office in December, with helping reach the agreement.
The mayor has no authority over the schools but she does have a grandson in the district.
The deal must still be voted on by the school board and the full union, which represents about 30,000 workers also including cafeteria employees, special education assistants and other support staff. However it gives them most if not all of what they demanded and is expected to pass handily.
Those workers walked off the job Tuesday through Thursday amid stalled talks, and classes for some 500,000 students resumed Friday.
Members of United Teachers Los Angeles, the union representing 35,000 educators, counselors and other staff, joined the picket lines in solidarity, lending muscle to the walkout.
Teachers waged a six-day strike in 2019 over pay and contract issues, but support staff didn't join and schools remained open.
This time Carvalho had warned parents that classrooms would close for safety reasons because both instructors and support staff were taking part. The strike ended up snarling schedules for many parents because schools had to find alternate ways to provide daycare and the meals offered on campuses.
The strike has shone a spotlight on the issue of underpaid workers who serve as the backbone of schools across the country.
The union said district support staffers earn, on average, about $25,000 per year and many live in poverty or must work several jobs because of low pay or limited hours while struggling with inflation and the area's high cost of housing.
Carvalho agreed that what he called indispensable workers were being underpaid.
The deal came just days after the union accused the district of engaging in unfair labor practices. Arias noted that another contract must be negotiated next year but added: "There is no strike planned for the foreseeable future."
"Thanks to the parents of Los Angeles and the students of Los Angeles and everyone who stood shoulder to shoulder with our members," he said.
SEIU members have been working without a contract since June 2020, while the contract for teachers expired in June 2022. The unions decided last week to stop accepting extensions.
Copyright 2023 The Associated Press. All rights reserved.