Inmate who escaped by breaking cell door arrested after police pursuit near Kansas City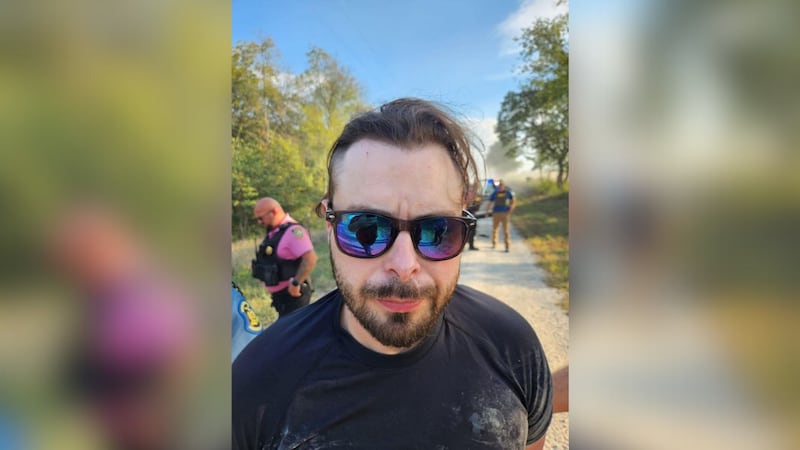 Published: Oct. 1, 2023 at 8:02 PM EDT
|
Updated: Oct. 1, 2023 at 10:05 PM EDT
PHELPS COUNTY, Mo. (KY3/Gray News) - The second of two inmates who escaped a Missouri jail by breaking the cell door is back in police custody, according to law enforcement.
The Phelps County Sheriff's Department says around 11 p.m. Friday, two inmates escaped by breaking the structural integrity of the cell and left the building.
The inmates were identified as Jonathan Eugene Schmidt O'Dell and Steven Timothy Scott.
A search of the surrounding area was conducted, and a short time later police said Scott turned himself in.
The search for O'Dell continued over the weekend and into Sunday, with multiple agencies investigating tips of sightings across Missouri and near Kansas City.
Officials say O'Dell is described as 6 foot 1 inch tall, 200 lbs., with brown hair, blue eyes, and a full beard at the time of his booking.
He was last seen wearing a maroon-colored shirt with a Phelps County logo and brown slacks with a tan stripe. He is considered extremely dangerous and was being held in jail for several weapons charges.
Earlier Sunday afternoon, Rolla Police said there was a sighting of O'Dell on State Route O south of Rolla. Authorities say he was wearing a brown jacket over the shirt, still had the brown pants, and that he "looked very dirty." Rolla Police advised the community to keep their homes and vehicles locked.
Later Sunday evening, O'Dell was arrested after a pursuit with law enforcement in Ray County, Missouri, near Kansas City.
Police say a witness who knows O'Dell reported him in possession of a stolen vehicle out of Phelps County. The vehicle was recovered at the time of the arrest.
The arresting agencies were the FBI, the Missouri State Highway Patrol, and the Ray County Sheriff's Office.
The FBI in Kansas City also sent out a release about a federal indictment that stated O'Dell allegedly planned to travel to Texas to shoot at illegal immigrants crossing the United States – Mexico border. The indictment also alleges he planned to murder officers and employees of the U.S. Border Patrol who would attempt to stop him.
In October 2022, the FBI went to search O'Dell's home, but special agents were fired at several times. Officials say agents did not fire back and after the gunshots ended, the FBI put up a perimeter and began communicating with the persons inside the residence to come out.
Copyright 2023 KY3 via Gray Media Group, Inc. All rights reserved.