Some Chances For Snow Showers Wednesday Night, with Warmer Temperatures for the End of the Work Week
Published: Nov. 14, 2023 at 8:04 PM EST
PRESQUE ISLE, Maine (WAGM) - Good evening everyone and happy Tuesday. After another gloomy start to the day today with more cloud cover in place, clouds finally broke apart this afternoon, leaving us with clear skies continuing into this evening. Don't expect the clear weather to last long, with cloud cover returning across the county between now and tomorrow morning. This will work in our favor keeping overnight lows warmer than what we would see otherwise, however we will still see one last cooler night tonight, before warmer weather returns later this week, along with some snow shower chances.
Going hour by hour through the rest of tonight shows skies becoming mostly cloudy between now and tomorrow morning. While this will result in another gloomy day tomorrow, it will work in our favor keeping overnight low temperatures warmer than what we could expect otherwise. Low temperatures tonight are expected to fall back into the mid to upper teens for most places by tomorrow morning. Northwesterly winds remain light during the overnight hours, keeping the cooler air flowing into the region.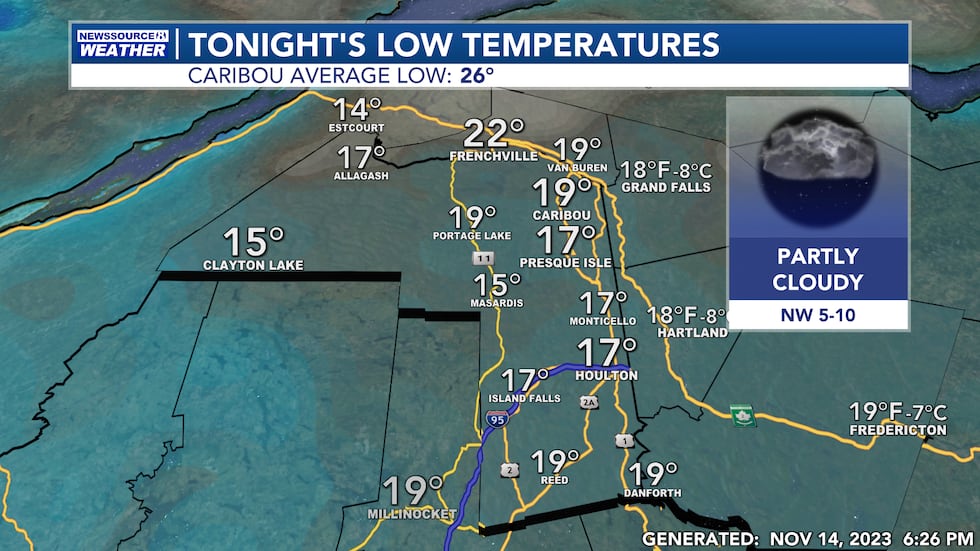 Tomorrow looks to be a gloomier day, with more cloud cover expected for much of the day. While high pressure is still in control of our weather, an approaching low pressure system and series of fronts will keep cloud cover in place for most if not the entire day. I can't rule out a few break in the clouds, which would help give temperatures an extra boost during the afternoon, but overall it will be quiet during the day, with precip holding off until the overnight hours. Light snow showers Wednesday night into early Thursday morning could produce enough snow to coat some roadways, however some factors working for us will be warmer temperatures during the day, not as chilly overnight lows, and the timing of the snow showers occurring between 9 PM and 1 AM, with temperatures still above freezing at that point in the night. It's still worth noting some surfaces could be slippery to start the day Thursday, so make sure to plan for that accordingly. High temperatures tomorrow reach the upper 30s and lower 40s once again. Southerly winds will be working to bring warmer air into the region, which is why we still see temperatures warm up tomorrow, even with the lack of sunshine.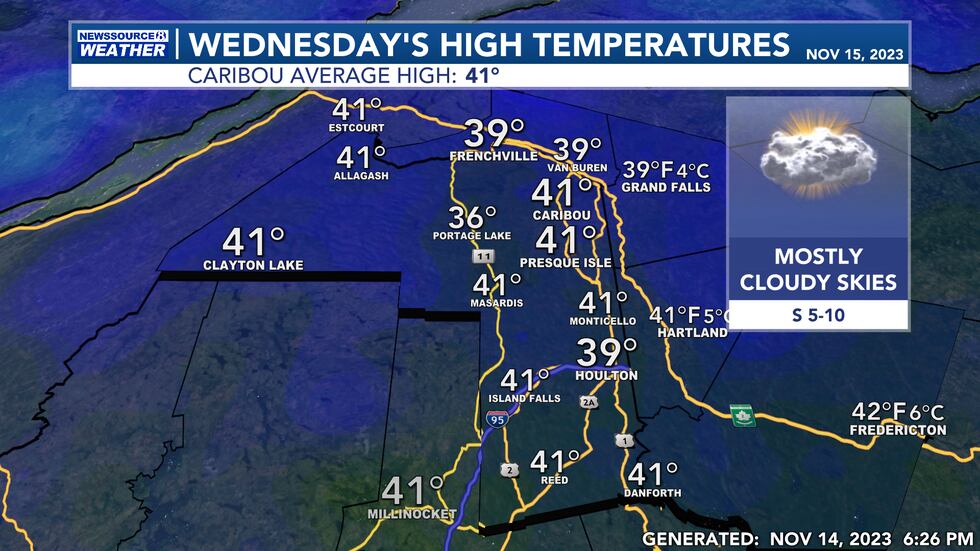 For more details on the forecast, make sure to check out this evening's Weather on the Web Video Forecast attached to this article. Have a great evening!
Copyright 2023 WAGM. All rights reserved.