Sunshine to Start the day Tomorrow, with Cloud Cover Increasing by the Afternoon; Weekend System Missing us to the East
Published: Nov. 16, 2023 at 6:57 PM EST
PRESQUE ISLE, Maine (WAGM) - Good evening everyone and happy Thursday. After snow showers moved through the region last night, we saw a better day across the county today. Sunshine was seen for most of the day, with a few fair weather clouds. This helped to warm temperatures up county wide, with highs reaching the mid to upper 40s for most places. We're still seeing warmer temperatures in spots this evening, however clear skies are working to quickly cool temperatures off. Tomorrow will be the calm before the storm, with increasing clouds during the day. High temperatures will be the warmest we've seen in a while, with highs approaching the lower 50s. The weekend storm that we've been watching all week now looks to miss us, with the cold front passing through early Saturday acting as a steering force for the larger area of low pressure out to sea.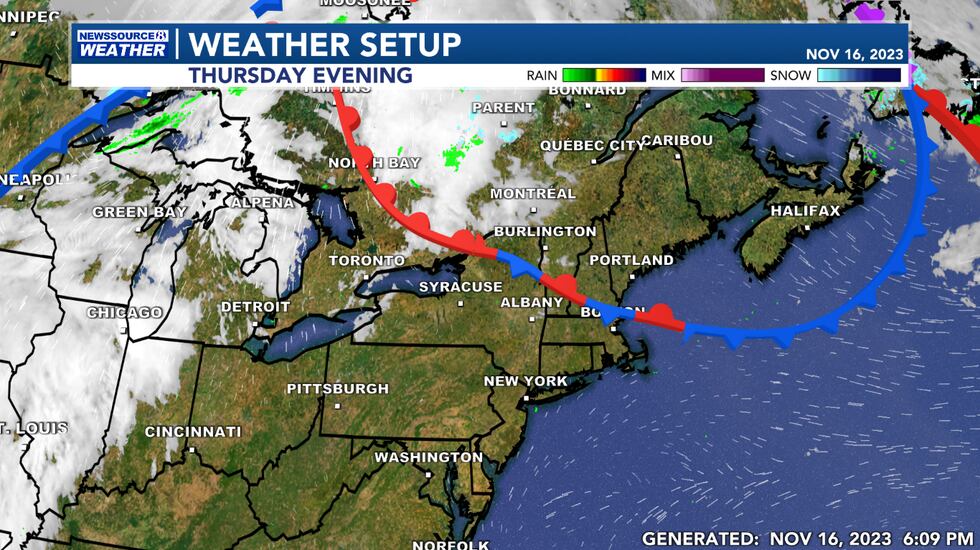 Going hour by hour through the rest of tonight shows cloud cover slowly working its way back into the region between now and tomorrow morning. This cloud cover will work in our favor, keeping warmer temperatures in place for tomorrow morning. The other factor working in our favor are southerly winds. They will remain light through the overnight hours, but will be just enough to keep warmer temperatures in place through tomrorow morning.
Tomorrow starts off with some sunshine early on, but don't expect it to last the entire day. Cloud cover continues to increase, and by the afternoon hours skies will likely be mostly cloudy. We'll continue to see warmer air work into the region tomorrow thanks to Southerly winds. They'll continue to be gusty at times during the day, but ultimately working in our favor to bring the warmer air into the state. High temperatures tomorrow look to reach the lower to mid 50s for most places across the county.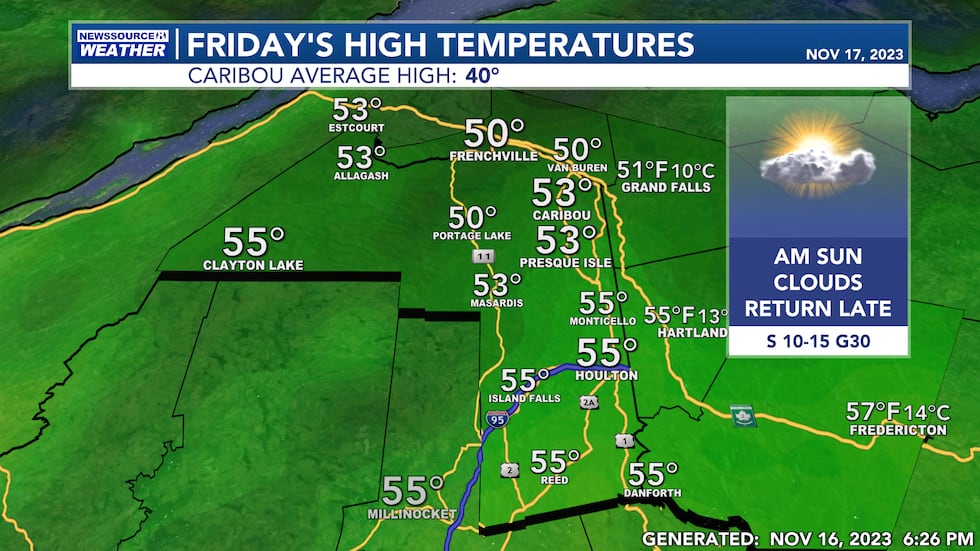 For more details on the forecast, make sure to check out this evening's Weather on the Web Video Forecast attached to this article. Have a great evening!
Copyright 2023 WAGM. All rights reserved.