LTC Names All Conference and All Academic award winners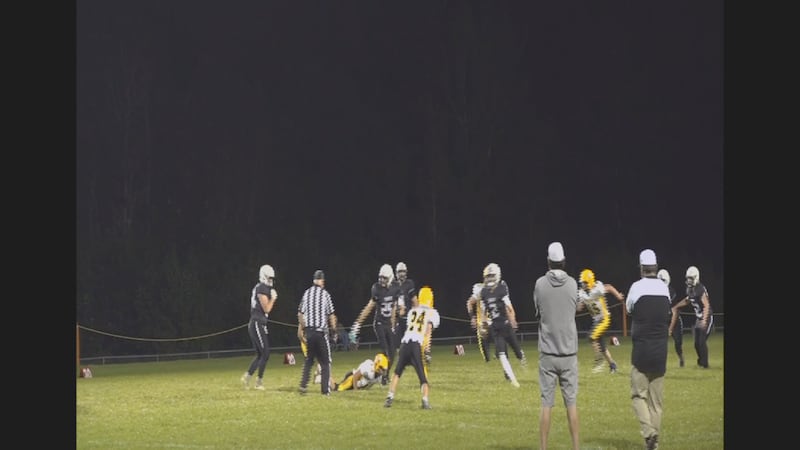 Published: Nov. 20, 2023 at 10:35 AM EST
PRESQUE ISLE, Maine (WAGM) - The Little Ten Conference (LTC) released their All-Conference and All-Academic Teams on Saturday morning.
The LTC Offensive Lineman of the Year, Defensive Lineman of the Year, Coach of the Year and Player of the Year will all be announced at the 35th Annual LTC All-Star Banquet that will be held at Jeff's Catering in Brewer on December 3rd at 12 noon.
LTC Player of the Year Award Nominees-2023
Bucksport Ayden Maguire
Dexter Blaine Gould
Houlton Isaiah Ervin
Mattanawcook James Dube
Ellsworth Casey McDonald
Orono Jack Brewer
St. John Valley Gavin Severe
Stearns Caden Raymond
1st Team Offense Quarterback- Jack Brewer- Orono Isaiah Ervin— Houlton Running Back- Ben Francis- Orono Caden Raymond- Stearns Utility Back- Lucas Pelkey- Stearns Center- Ashton Duran- Orono Brady McAvoy- Stearns Off Line- Beau Talbot- Dexter Kase Honders- Bucksport Cooper Sawyer- Orono Tight End- Isiah Corson- Ellsworth Connor Fitch— Bucksport Receivers - Bronson Hanning- Houlton Gavyn Holyoke- Bucksport Will Francis— Orono Pierce Walston- Orono Punter- Pierce Walston— Orono Kicker- Pierce Walston— Orono
2nd Team Offense Quarterback- Caleb Shearer- Stearns Ayden Maguire- Bucksport Running Back- James Dube— MA Kamryn Webber- Bucksport Blaine Gould— Dexter Utility Back- Jo James-Chin- Ellsworth Center- Zak Adams- Dexter Off Line- Andy Herrick- Ellsworth Davyn Stewart- Bucksport Graham Higgins- Orono Brady Brooker- Stearns Tight End- Brady Grant- Orono Gavin Gagnon- Stearns Wide Receiver - Will Spratt- Dexter Holdyn Guenther- Dexter Kase Walston- Orono Sam Jacobs- Stearns Cam Atkinson- Stearns Punter - Gavyn Holyoke- Bucksport Kicker- Ryan Winchester- Bucksport
1st Team Defense Linemen- Beau Talbot— Dexter Brady McAvoy— Stearns Linebackers- Zak Adams— Dexter Gavyn Holyoke— Bucksport Caden Gray— Orono Defensive Ends- Brady Grant— Orono Ben Francis— Orono Defensive Backs- Pierce Walston— Orono Connor Fitch— Bucksport Cam Atkinson—Stearns
2nd Team Defense Linemen- Davyn Stewart— Bucksport Zach Ryder— Orono Linebackers- Brad Bamford— Orono Caden Raymond— Stearns Lucas Pelkey— Stearns Defensive Ends- Aiden Tweedie— Bucksport David McGreevy— Stearns Defensive Backs- Will Spratt— Dexter Isaiah Ervin—Houlton Brady Maheu— Orono Ayden Maguire Bucksport
2023 LTC All-Academic Team
Dexter Holdyn Guenther, William Spratt, Zak Adams, Blaine Gould, Beau Talbot, Jason Bowden, Trevor Picariello, Tyler Gould.
Mattanawcook Academy Harper Jenkins, Ian Friend, Kaiden Friend
Ellsworth Reese Carter, Isiah Corson, Casey McDonald, Dylan Kerns
Bucksport Caden Blackwood, William Gray, Kase Honders, Ayden Maguire, Kamryn Webber, Eli Bennett, Dylan Varney, Wyatt Weaver
Stearns Sam Jacobs, Caleb Shearer, David McGreevy, Beckett Brown, Lucas McDonald, Landon Gardner, Tyler Morris
Orono Caden Gray, Piere Walston, Sal Wise, Jack Brewer, Brady Maheu, Brady Grant, Ben Francis, Kase Walston, Logan Williams, Alex Maheu, Ashton Duran, Zach Ryder, Cooper Sawyer
St John Valley Gibson Ouellette, James Weaver, Ricky Huang.
Copyright 2023 WAGM. All rights reserved.