The Sunshine Continues Tomorrow with Snow Returning Wednesday
Published: Nov. 20, 2023 at 7:21 PM EST
PRESQUE ISLE, Maine (WAGM) - Good Monday evening everyone, we had some more filtered areas of sunshine build in throughout the daytime with some stubborn areas of cloud cover. Even then our highs topped out right near the freezing mark.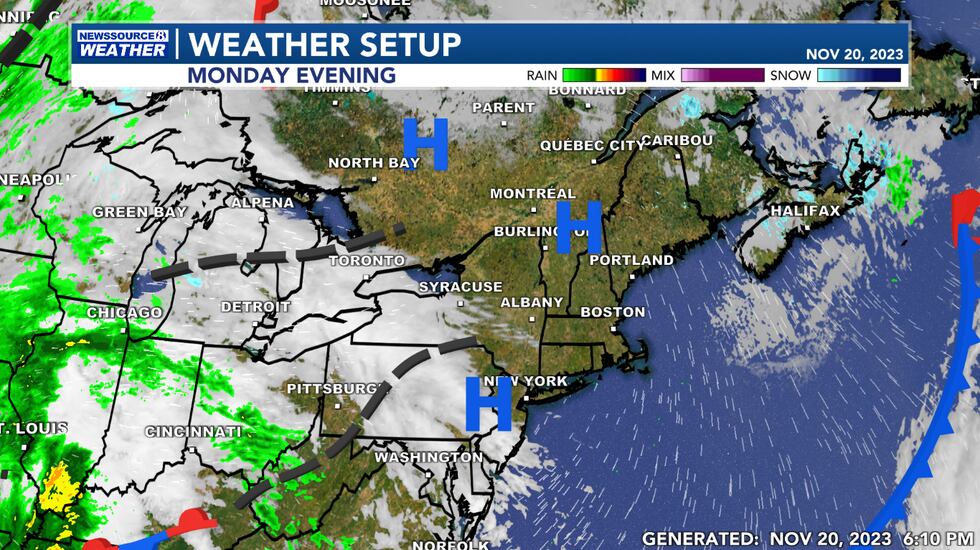 The sunshine and quiet weather looks to continue tomorrow, but it will be short lived. With high pressure already sliding its way to the east, it will usher in more cloud cover ahead of our next system looking to approach the region. While it has mainly been a rain event for the Midwest and the plains, it will look to be more of snowfall event here locally based on the fact that cooler air will remain in place. This will likely impact your holiday travel plans for Wednesday.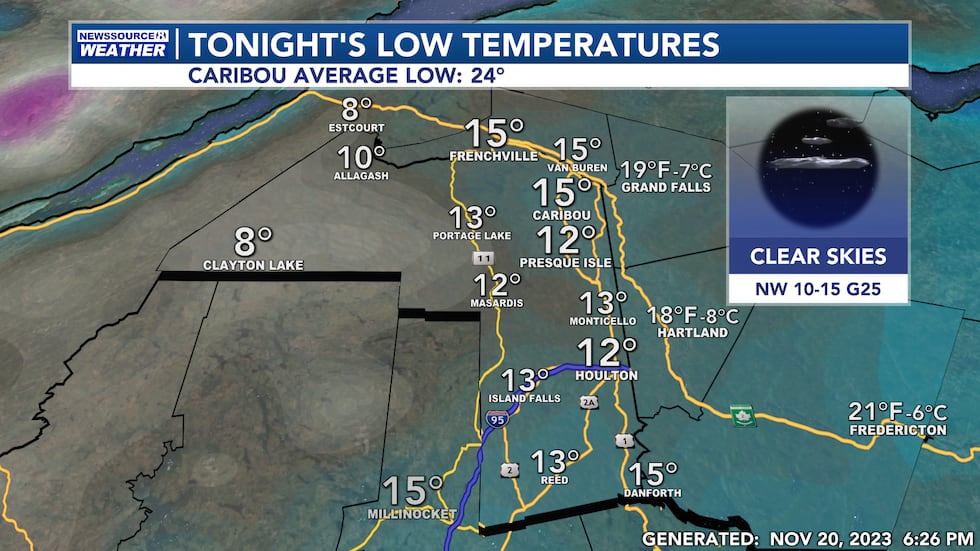 Before we get to that point, clearing skies look to remain the trend overnight. Going hour by hour for you for the rest of this evening, I'm expecting a lack of cloud cover with the exception of a few passing clouds. This will likely impact the state of our overnight lows. A lack of cloud cover will result in lows bottoming out into the low to middle teens and we will continue to have the presence of some breezier conditions causing things to feel considerably chillier than that.
Even with the sunshine tomorrow, highs will stay right near the freezing mark. However the difference between what we will experience tomorrow and what we saw today is that wind speeds will likely calm down. Most of the sunshine will last until we head towards the evening commute. That's when we will see a quick and sharp increase to our cloud cover, but we will likely stay dry. Shower chances will not become a threat until after midnight. If you can center your travel plans towards tomorrow that will be the best case scenario, as we will very likely be dealing with some slippery roadways on Wednesday. Stay tuned with us we will have more updates on this for you.
For more on this evening's forecast tune in to this evening's Weather on the Web Video Forecast. Have a great evening!
Copyright 2023 WAGM. All rights reserved.