Caribou Russet a success on supermarket shelves statewide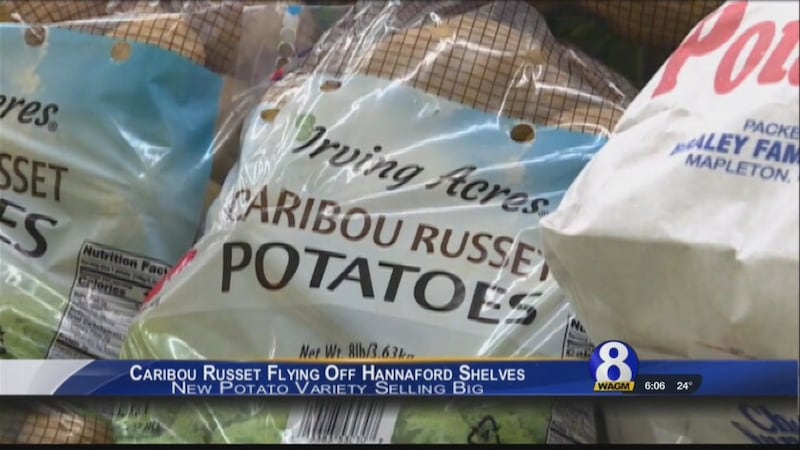 Published: Nov. 28, 2017 at 6:41 PM EST
A potato variety grown right here in Aroostook County has hit supermarket store shelves throughout our state and beyond...and consumers are picking it up.
Hannaford began selling Caribou Russet Potatoes in its stores weeks ago.
The potatoes are coming from Irving Farms in Caribou...the supermarket chain and the farm have had a 25 year relationship.
Bags of the potato variety are available in 94 stores across Maine and in parts of New Hampshire and Massachusetts.
Hannaford Category Manager of Produce Mark Jewell says they're always looking for ways to reduce food miles to provide their customers with fresher tasting products.
He says typically this time of year a russet potato comes off the west coast, which adds another 10 days for the arrival of those potatoes.
By using Caribou russets, customers can take fresher potatoes home and they'll stay fresh longer.
He says typically during Thanksgiving time, people are buying white potatoes not russets, but they saw a big spike in sales with russets because of the Caribou Russet.
"The first two weeks we're seeing a 30 percent increase in our bagged Russet potato, because of the Caribou of course so it has been doing very well...the stores are excited about it as we can tell by the movement, any time we can get a product that's local especially the name calls out the variety which is a town in Maine...Caribou, so that created some excitement," said Jewell.
Jewell says it's a trial for both Hannaford and Irving Farms as far as how fast the product will move. He says after this year they'll look at the results and potentially commit to even more of the crop next year.