King Advocates for Acadia National Park Advisory Commission to Interior Secretary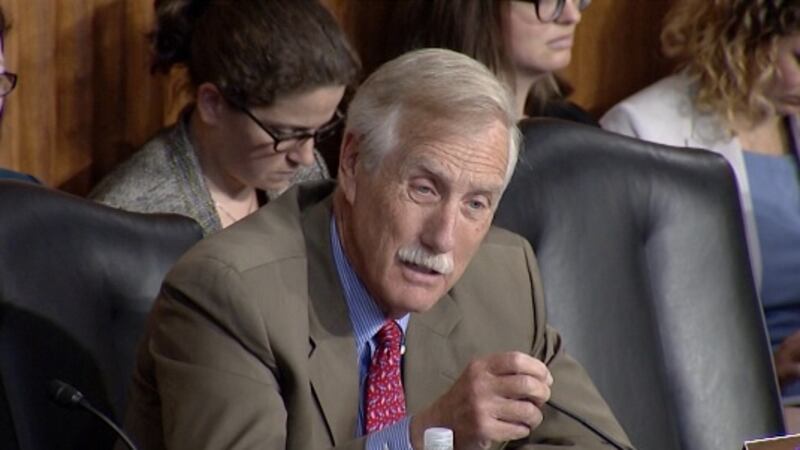 Published: Jun. 20, 2017 at 1:30 PM EDT
--During a Senate Energy and Natural Resources Committee hearing Tuesday, U.S. Senator Angus King (I-Maine) spoke in support of the Acadia National Park Advisory Commission to Secretary of the Interior Ryan Zinke. Senator King's comments to Secretary Zinke come after the Department of the Interior earlier this year suspended meetings of all national park advisory commissions across the country – including the Acadia Commission in Maine – while the National Park Service conducts a review of them.
"I can tell you that the advisory commission at Acadia in Maine is very important – it makes a great contribution," Senator King said to Secretary Zinke. "[…] I think this is a case where the value to the park system in terms of good relations with its neighbors outweighs the fairly minor savings from the administrative costs associated, so I commend to you from personal experience the value of the advisory commissions."
Secretary Zinke responded that the purpose of the review was to gain a better understanding of what the advisory commissions have accomplished over the years, and noted that the commissions could apply for an exemption if they would like to meet.
Earlier this year, Senator King also questioned Acting National Park Service Director Michael T. Reynolds on the suspensions, to which Mr. Reynolds responded that he believed the commission's work "will be well-received by this review at this point and we'll keep a close eye on it." Last week, Senator King and Senator Susan Collins also sent a letter to Secretary Zinke urging him to reconsider the suspension of the Acadia Commission.
During the hearing, Senator King also thanked Secretary Zinke for his recent visit to Katahdin Woods and Waters National Monument, noting its positive economic effects in the region. Secretary Zinke called his visit a "wonderful experience" and said that he thought Senator King will be "enthusiastic" about his forthcoming recommendation and that he believed it would be satisfactory to all parties.