Maine Author On Autism Shares His Experience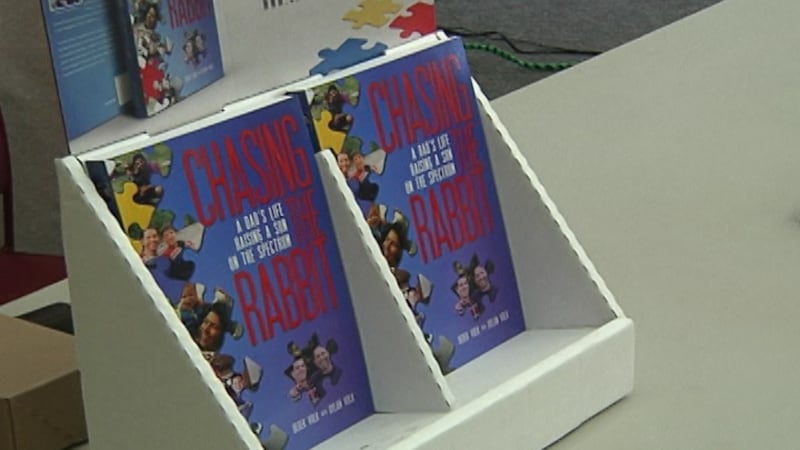 Published: Nov. 17, 2015 at 12:08 PM EST
In a room full of strangers, Derek Volk tells his story about raising a son on the autism spectrum. He has been doing this across the country to promote his book "Chasing the Rabbit." In his book, Volk talks about the struggles parents have with raising a child on the spectrum
"I spoke recently and there were probably 6 or 7 people in the room but there was one person in the room that really needed to hear the story. That was recently diagnosed was really struggling and that's why I'm doing this. I feel like this book was written so that I could help other people," said Volk.
Volk originally sat down to write a business book, he owns a business in Biddeford, Maine. But when he sat down to write the book it felt wrong. Instead He recorded himself talking about his experiences as a parent and it turned into this book.
Chasing the Rabbit is different than many books that can be found on the topic of Autism. This book is written by a father, and his experience. While it is rare that a father will share his story, Volk knew that he needed to share his. What makes it even more unique is that Volk's 24-year-old son Dylan weighs in, adding his side to the stories
"Especially what it's like as a dad because the voice of the dad has been so silent in the world of autism. There is nothing out there written by a dad to talk about what I'm feeling. The book is extremely raw," said Volk.
Maeghan Swanson, the president of the Aroostook Autism Support Group, was apart of the process bringing Volk into the county.
"The book was very impactful. Especially coming from a father's perspective which you don't normally hear. Women share that's what we do, and women more openly talk about these things. so to hear the male perspective having a son on the spectrum, was impactful and enlightening for a lot of the people here today, myself included," said Swanson.
The book is called chasing the rabbit. Volk compares his son to a greyhound chasing the rabbit of normalcy around and around, never able to catch it. The father of four is from Maine and raised his family in Scarborough.