Sheriff's deputy tells story of perseverance to inspire others to never give up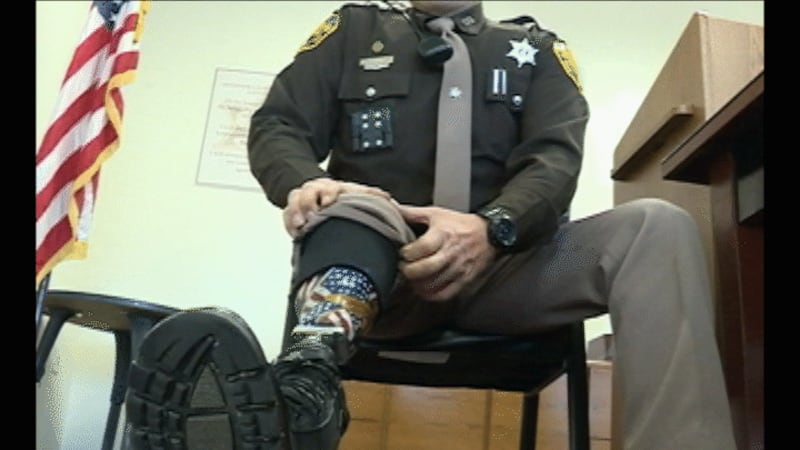 Published: Feb. 21, 2017 at 6:26 PM EST
"It was horrible, but it wasn't anything that I was going to let change my life or stop me," said Vance Palmer of the Aroostook County Sheriff's Office.
That's why some have nicknamed him "unstoppable sheriff". Vance Palmer is a deputy with the Aroostook County Sheriff's Office who won't let anything come between him and his work. Not even when adversity stares him in the face. Last April, Palmer had to have half of his right leg amputated when he received an injury that interfered with his type 2 diabetes.
"On some level I knew what had happened, but it never really set in that it was a horrific, end of my life scenario. That never happened with me. Through the grace of God and family and friends and strangers, everything, I had more visitors from what I understand at EMMC that it actually started to aggravate the nurses," he said.
Not long after his surgery, Palmer made a promise to his boss - Sheriff Darrell Crandall. That he WOULD be back to work. After getting hooked up with a prosthetic leg, it was only five and a half months before he returned to his full time duties.
"Vance could have chosen to let this define him for the rest of his life or he could have chose to not and clearly that's what he's done. He has taken control of his situation literally from day one, and has said 'no this isn't going to stop me, this has happened, I can't change it, watch this' basically," said Crandall.
Keep in mind - police work means he has to be ready for anything.
"I wasn't going to let it beat me, I wasn't going to let it stop me. I've got the greatest little 9 year old boy in the world and I'm not gonna let him see this stop me. I'm not gonna let him see me give up," said Palmer.
His return to work was in September, and since then he's begun sharing his story with youth in his community. Last week a Hodgdon High School crowd listened to him talk about perseverance. If he can do it, so can they.
"There's nothing special about me at all. And if I can take what has happened to me in my life and overcome it and really in a very short period of time, and if I can take and tell anybody don't give up, if you have a dream follow that dream, don't let anybody tell you you cant do it, don't let something like this set you back from returning to work or being what you want to be," he said.
Something he never saw coming taught him a great deal about the strength inside of him and might just inspire others to discover theirs too.